Camp Waziyatah
Alumni, Friends and Family Weekend 2022
If there's one thing parents always say when they're at Wazi, it's this: "I want to go to camp myself!" Well, here's your chance!  Join us for Camp Waziyatah's 2022 Friends and Family Weekend on August 19th-21nd! It's your chance to be a real camper, grown-up style.
What's included? Accommodation, activities, camp shirt, food, and, since this is an adult's 21+ only party, drinks! Pick-up/drop-off at airports and linens will be an additional charge.
What does it cost? Cost is $399/person and $299/person for Alumni under 30 years of age. To register, a deposit of $100 is needed to hold your spot.
What does a day look like? Well that depends, what do YOU want to do? Try water skiing, rock climbing, lounging by the lake, campfire, and even a social. This Wazi Weekend looks a lot like camp for kids but with all the freedom of being an adult!
What is Alumni, Friends and Family Weekend?
This is the first of hopefully many of Camp Waziyatah's Parents, Friends and Alumni Weekends (A.K.A. "Third Session"). It's a time to get back to the woods, out of your comfort zone and into the moment. We suggest you set aside technology (accept the "no tech challenge", bring a real physical book, spend time with your significant other, and enjoy all the magic and wonder of being a camper  (again, or for the first time) at Wazi!
What will we be doing all weekend?
Camp is in full session! There will be a long list of activities taught by our expert instructors, evening activities like campfires, s'mores, a social… maybe even a color war.
What are the accommodations?
Just like all Wazi campers, Third Session campers will stay in our simple, rustic cabins. It's not the Ritz, and that's intentional. Read and sign our "Low Expectations Manifesto". There will, of course, be no counselors to tell you what to do or what not to do, but they will be there to run activities and keep you safe.
Do we stay in cabins?
Yes! Cabin assignments will be done exactly how we do them for campers, separated by the gender indicated on the registration form. Wazi accepts all gender identities, but currently has only male and female cabins. If you have any issues with the cabin to which you are assigned as it relates to gender, we will find an accommodation for you. You can write in a cabin-mate request on the registration form if you have a friend you'd like to be in a cabin with, and we will do our best to accommodate.
Can I be in a cabin with my significant other?
We ask that you do not stay in cabin with significant others, even among same-gender couples. Embrace it! You'll have way more fun sneaking out to the tennis courts after lights-out anyway. No in-cabin romance please.
What's included?
Accommodation on camp (linens will accrue an additional charge), activities, camp shirt, food, and alcohol are all included in the cost of tuition. The only additional cost is the shuttle to and from the airport, if needed.
What will the food consist of?
Dinner on Friday, Breakfast/Lunch/Dinner (final banquet) on Saturday, and Breakfast/Lunch Sunday. Allergies, vegetarian/vegan, and religious dietary restrictions will be accommodated. Reminder: Maine is a rustic state with many different species of wildlife. Refrain from bringing food into the cabins as it can attract skunks, raccoons, etc.
Will there be booze?
Yes! We will provide beer, wine, and a few signature cocktail options. If you have alcohol preferences outside of what we provide, you are invited to bring your own and store it with our event bartenders.
Can I bring the family?
This is an adult only event with a minimum participation age of 21. There are no exceptions.
What activities can I do?
We'll have all the camp classics! Waterskiing, wakeboarding, tubing, sailing, canoeing, paddle boarding, and everyone's favorite, the Blob, will all be running on the Waterfront. In Athletics you can play basketball, tennis, soccer, archery, flag football, and riflery. Across the street at Adventure Park you can climb our multi-face climbing tower, hit new heights on our high ropes course, or sail through the trees on the zipline. Never rode a horse? Now is the time to try at horseback riding! For your creative side we have visual arts, performing arts, and dance.
Do I have to do activities?
While we encourage you to enjoy all the activities we have to offer, if you want to lay by the lake with a mimosa and a book, you're more than welcome to do so. Part of the fun of being an adult at camp is you get to decide what you do. There will be an activity schedule, but if you need a nap, you take that nap.
Sounds great! What do I do to sign up?
How will the party run in light of Covid-19?
Camp Waziyatah will be adhering to Maine State Regulations and recommendations from the CDC.  As we get more information moving into summer, we will update all participants on how we will be addressing Covid-19 in regards to the weekend. This portion of our FAQ will be updated, as well as e-mail outreach to party participants, to let everyone know how Wazi will be celebrating our 100th anniversary while still keeping everyone safe.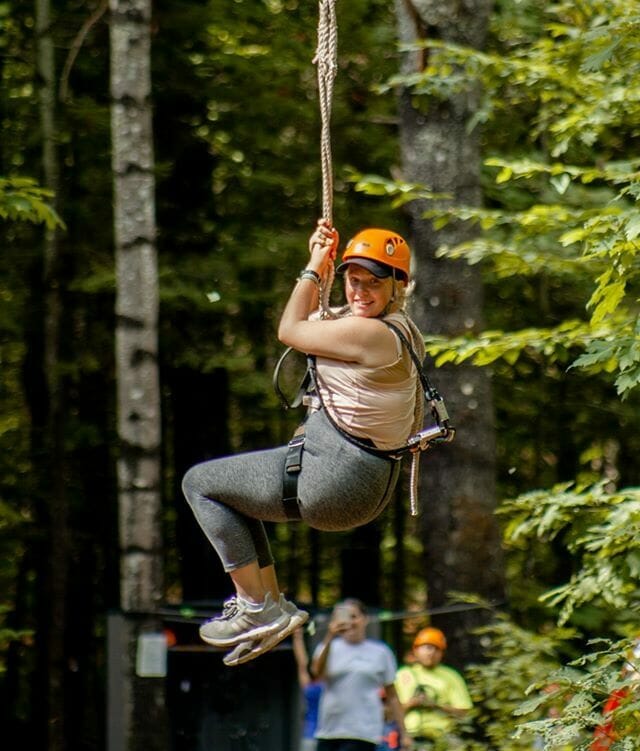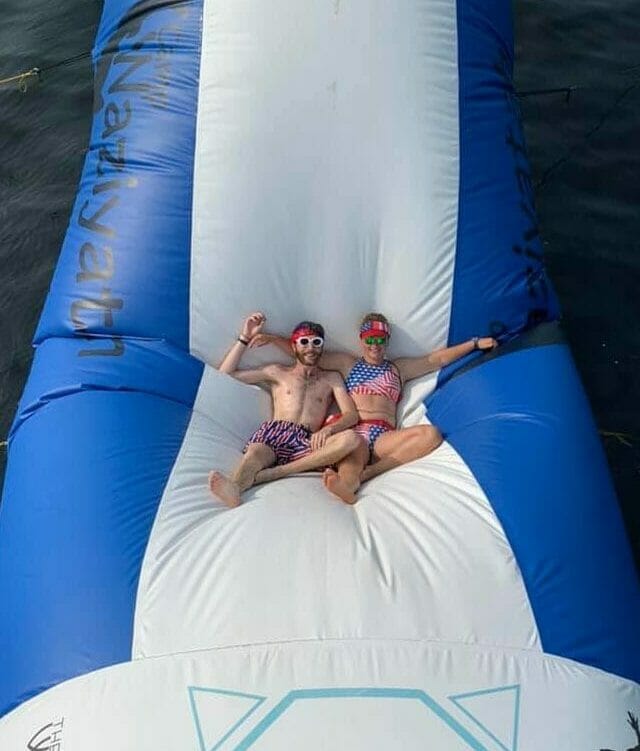 As a Wazi Alumni, we know that camp means the world to you, and you mean the world to us! That's why we've created the Alumni Refer and Receive program.
From now until Jan 1st, 2022, any Alumni that refers a family who signs up a camper will receive their registration to the F&F weekend PLUS THEIR AIRFARE TO THE PARTY – COMPLETELY FREE!
That cousin who loves to waterski, the student who wants to come out of their shell, or the neighbor who just moved in with those 8 year old twins: if they sign up for camp in 2022, you come for free.
Participating in the Refer and Receive program also guarantees your spot at the party. On January 1st, we open registrations to the public, which gives our Alumni a chance to secure their spot before hand.
Want to learn more? Click here to talk with Maddie Acosta, one of our New Family Liaisons, about effective ways we talk about Wazi to new families, materials available for reach out, and any additional questions you may have on the Refer + Receive program.
Wazi Alumni, Friends, and Family –
Golden tickets to the party of the summer are limited and are given to our Alumni, Friends and Family first. Not a member of the Wazi Family? Click here to join the waitlist! You'll be notified on June 1st, 2022 on space availability.