Packing for Camp
This packing guide is intended to help you and your kids get ready for an amazing summer at Wazi!
A few things to keep in mind…
Laundry is done once a week at camp at our in-house laundry facility – the clothing items listed are intended for about one week at camp. You do not have to pack for four weeks!
LABEL EVERYTHING!!!
Camp activities include land sports, water activities, and indoor events (arts & crafts, mealtimes, evening programs). Clothing that can be used in multiple settings is ideal.
While it's beautiful a majority of the time, weather at camp can vary from day-to-day. Be sure to equip your camper with a variety of clothing for hot & dry/cold & rainy weather.
Technology Policy
Wazi has a very strict No-Technology policy! We do not allow any campers to have cell phones, tablets, e-readers, or MP3 players with a screen (an iPod shuffle is fine). Please be advised that if any of these items come to camp, we will store them in a safe place during the duration of your camper's session.
Information About Labeling Clothing & Items
Believe it or not, permanent markers are not always permanent. Frequent handling or washing can easily wear away a camper's name if it is written with a sharpie. We recommend laundry safe/dishwasher safe labels for everything. These labels are readily available in "camp packs" from a variety of different websites. You can find them by searching the term "sticker clothing labels."
Packing List
(Printable Packing List HERE)
Clothing
8-9 t-shirts or tank tops (must cover midriff and underwear)
5 pairs of basketball style or activewear-type shorts
2 pairs of casual shorts (non active-wear)
2 pairs of sweatpants
1-2 warm weather hoodies or sweatshirts
1 cold weather jacket (to layer w/hoodies i.e. fleece)
2-3 long sleeve shirts
2 pairs of jeans (mealtimes and evening programs)
3 or 4 appropriate swimsuits
3-4 pairs of pajamas
12 pairs of athletic socks (cotton/ dri-fit) (cheaply found at Marshalls)
12 pairs of underwear
1 pair of waterproof sport sandals (ie: tevas, chicas, or crocs) with a heel-strap
1 pair of shower sandals (flip-flops)
2 good pairs of sneakers with ankle support and treads for mixed terrain
1 nicer, appropriate outfit for banquet (if your camper is staying 4, 6, or 8 weeks)
Waterproof rain jacket
Baseball cap (optional)
Towels & Linens
2 sets of fitted & flat sheets for a twin-size bed
2 or 3 pillow cases
1 familiar, comfortable pillow
1 warm blanket
1 mattress cover (optional)
1 egg crate mattress pad (optional)
2 shower towels that can be used for showering (try to pick a unique, recognizable design)
2 beach towels for use at waterfront activities during the day
2-3 washcloths (if you campers uses these items)
Toiletries
Shampoo, conditioner, body soap
Loofa (if your camper uses this)
Personal grooming products (ie: hairbrush, comb, safety disposable razors if necessary)
Shaving cream (if necessary)
Toothbrush & toothpaste
Dental floss
Nail clippers
Hair ties (for long hair)
Sunscreen
Insect repellant
Other Required Items
Postcards, pens & pencils
Nalgene or Camelbak water bottle (these brands are dishwasher safe for our  industrial machines)
Flashlight with extra batteries
Sleeping bag rated for 50 degree weather
Mesh laundry bag
Other Items to Consider
A deck of cards or similar games/toys
Reading material (if you camper likes to read)
Friendship string
Musical instrument (if they play and want to practice)
Activity Related Items
(only needed if your camper plans to sign up for these)
2 extra pairs of jeans or long pants (horseback riding)
Riding boots or hard-sole shoe with ½" heel (horseback riding)
Baseball glove (optional; we have some at camp)
Shin guards (optional; we have some at camp)
Items to Leave at Home
Knives or weapons of any sort
Cell phones, walkie-talkies, tablets, e-readers
CDs with parental advisories
Locks or lockable containers
Cash (there's nowhere to spend it)
High heels and other unstable shoes unsuitable for Wazi's uneven terrain
Clothing with derogatory or inappropriate language or pictures on it
Any clothing that cannot not withstand high dryer heat
Expensive watches, jewelry, etc
Irreplaceable items of sentimental value
Anything prohibited by Maine State Law
Camp Store
Buy Wazi logo apparel and gear online. Choose from a variety of clothing including sweatpants, t-shirts, leggings, flannel pajamas, shorts, hats, and more!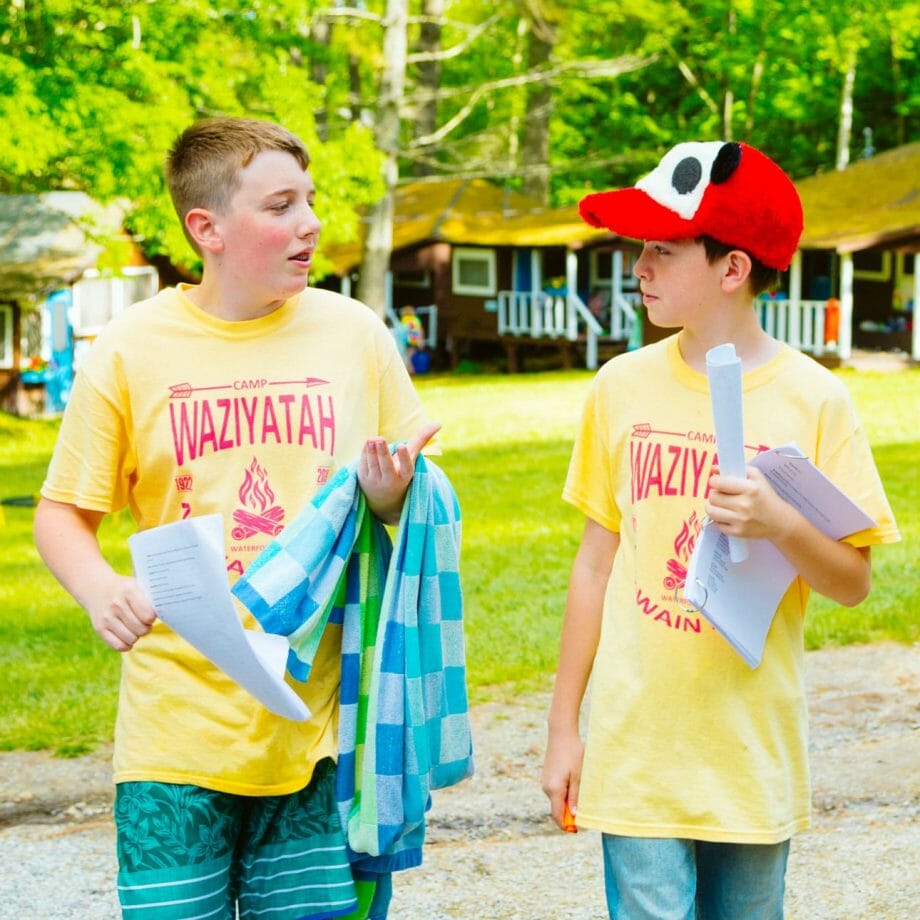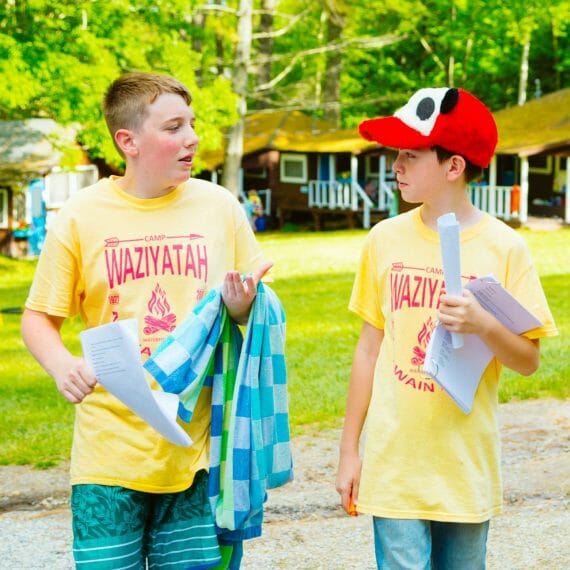 QUESTIONS ABOUT PREPARING FOR CAMP?
We Can Help