The Great Outdoors at Wazi
Adventure Bound
In today's hi-tech world, fewer and fewer kids experience the joy, exhilaration and natural wonder of outdoor camping – sleeping out under the stars or in the tent you carried and put up yourself – cooking dinner and roasting marshmallows over a campfire – getting to the top of the mountain after a long day's hike and the sense of accomplishment it brings. These are things no child should do without.
Adventure Bound is Camp Waziyatah's outdoor program and Trip Week is the time when every Wazi camper goes on a challenging and fun overnight adventure they will never forget.
Adventure Bound Activities
Day trips
Hiking
Outdoor camping
Canoeing
Outdoor cooking
Rock Climbing
White water rafting
River Tubing
Our certified Adventure Bound trip leaders take kids out every day for a hike, a canoe trip, a climb, a campout, or some other great adventure. Kids can sign up for the day's hike during afternoon activity selection and can spend the day hiking on one of our local hikes like Hawk or Streaked Mountain, or take a swim in a classic Maine swimming hole. Hikes are age and ability specific so everyone has an appropriately challenging experience.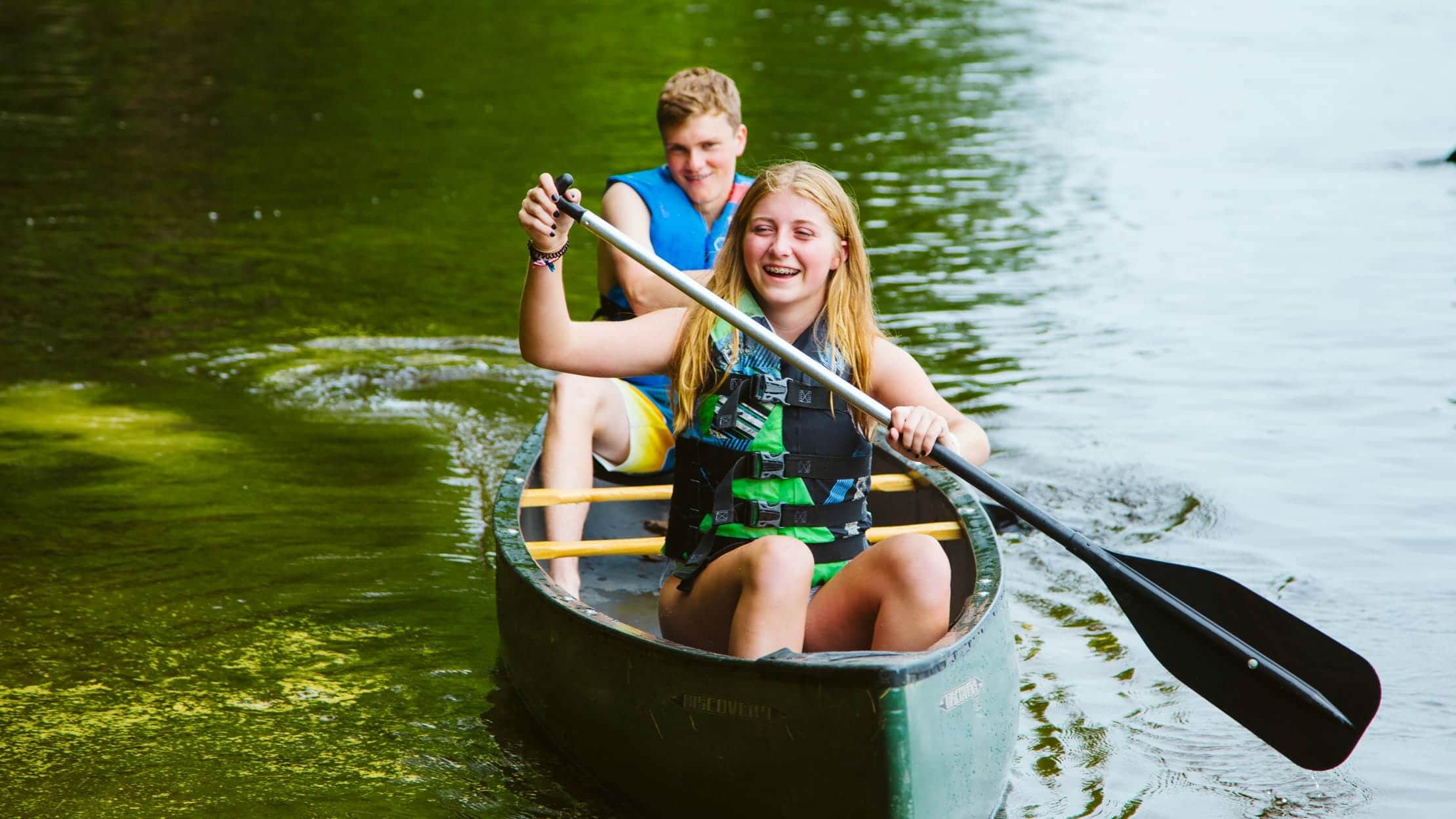 This is the time when every Wazi camper gets to go on a great outdoor adventure, guided by our certified Adventure Bound trip leaders. One trip is for The Pines, our youngest group of campers, another is for the Grove and Hill, our younger teen groups, and one is for the Ridge and Ledge, our oldest teen campers. Each trip features an overnight camp out and outdoor experiences like hiking, camping, cooking over an open fire, swimming, climbing, and much more. As kids get older, trips get longer and more extensive, culminating in a 3-day, 2-night trip to Acadia National Park for our oldest campers.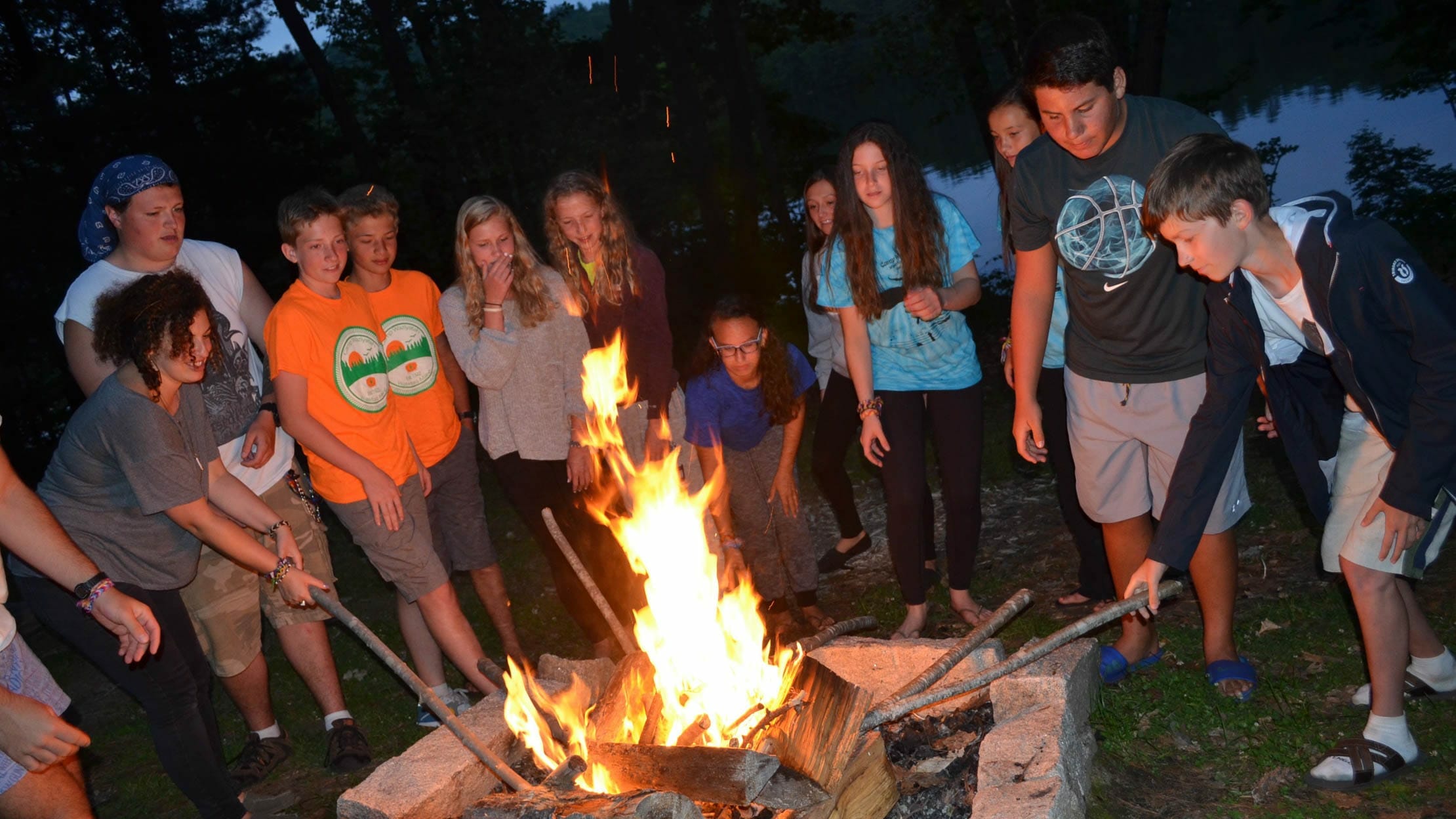 Nothing makes kids feel more empowered, self-confident and strong than achieving on their own. When you get to the top of the mountain after a day's hike, put up your tent, cook dinner over an open fire, and look up at the stars… doing it all without your phone's GPS, you know you've done it yourself. Even on short campouts, the benefits are easy to see and to understand. Campers of all ages look forward to joining the older age groups year after year as the trips get more and more extensive.
Because Trip Week takes place in the third week of camp, it is not available to two-week campers. This is part of the reason why we suggest four-week sessions, even for our youngest campers. The bonding and friendships made at camp need time to nurture, and a trip in the woods is just the place to do it. Campers who have adventures and successfully complete challenges together make the deepest friendship connections. Ask any Wazi alumni and they will tell you. Trip Week is an incredible experience that should not be missed!
LOOKING FOR MORE INFO?
Request a First Timer's Guide